Interpreting the W@S reports
Using the W@S reports and modules to develop an action plan
Information for Step 3
A core part of Step 3 is exploring your school's W@S reports to see what they tell you about your school. This page describes the range of W@S reports and offers ideas about how to interpret the reports and use this data to decide on likely next steps for an action plan.
How are the W@S reports
organised

?

The W@S reports explore four different dimensions (aspects) of school life that the research literature suggests work together to create a safe and caring climate which deters bullying. These aspects are:
School-wide climate and practices
Teaching and learning
Community partnerships

Prosocial

student culture and strategies.

A fifth aspect explores the extent to which aggressive and bullying behaviours occur at school. This aspect is called:
Aggressive student culture.

Three of these aspects are also divided into sections called sub-aspects.
For a fuller description of each aspect and sub-aspect see The aspects of school life explored by W@S.
Read more about the types of W@S reports.
School overview reports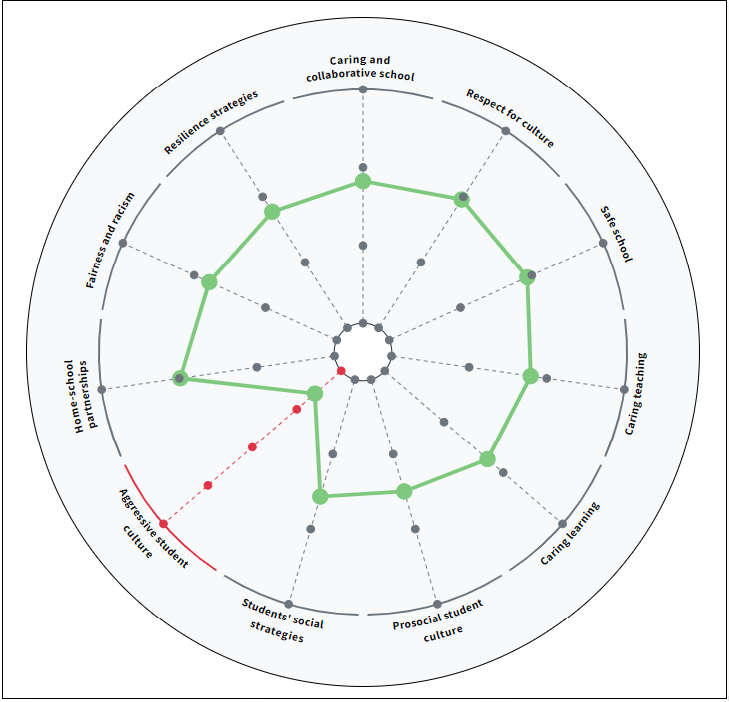 These circular reports are designed to represent each school as a system with different dimensions (called aspects). The reports give a broad overview of the W@S data by aspect and sub-aspect. They can be used as a starting point to look for patterns or differences that can then be explored more fully in the more detailed report types.
Read more about School overview reports
Aspect reports
The Aspect report is a box plot report produced for the Student Surveys only. This report should be viewed as an overall picture (all aspects on one report).
To make full use of the box plot reports you will need two sets of information: the Aspect report (box plot) for your student data and the scale descriptions for each main aspect.
Read more about Aspect reports
Item reports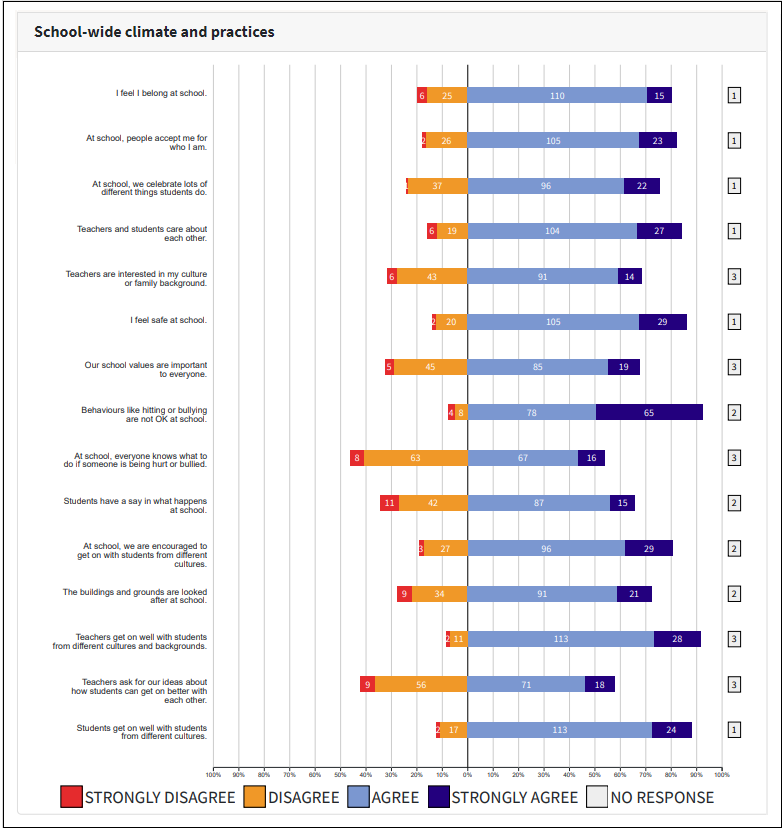 The Item report is made up of strip graphs that provide a summary of how groups of students or teachers responded to each survey statement. Item reports can be generated for:
students, based on the aspects; and
teachers, based on the questions and sections of the survey
What next? Step 3 - Next step planning
Once your review team have reviewed and interpreted your data and developed an idea of the goals you are working towards, the next step in the self-review cycle is to develop an action plan to address the next steps you have identified.
Resources that are designed to assist you to do this are accessed through Step 3: Next step planning:
Using the W@S reports and modules to develop an action plan (info for Step 3), gives ideas about ways of using these resources.